Well Summary
The Lore-1 exploration well was drilled by the Songa Offshore semi-submersible drilling unit Songa Mercur in contract area JPDA 06-103 in the timor Sea, 550 km west northwest of Darwin, Northern Territory, Australia. Lolotoe-1 was designed as a vertical exploration well to test the Lore structure, prominent tilted fault block in the southern part of JPDA 06-103. Primary objective were the Elang and Plover Formation sandstones. The secondary objective possibility of Flamingo Group.
Water depth at the Lore-1 location was 358.9 meters at lowest astronomical tide (LAT). The rotary table elevation was 22.4 meters. The Songa Mercur arrived on location on 18 November 2009 and Lore-1 was spudded on 20 November 2009, reaching the total depth of 3581 mMDRT on 7 December 2009. The well did not encounter any significant moveable hydrocarbons in the objective intervals. The well was plugged and abandoned and the rig release on Dec 2009.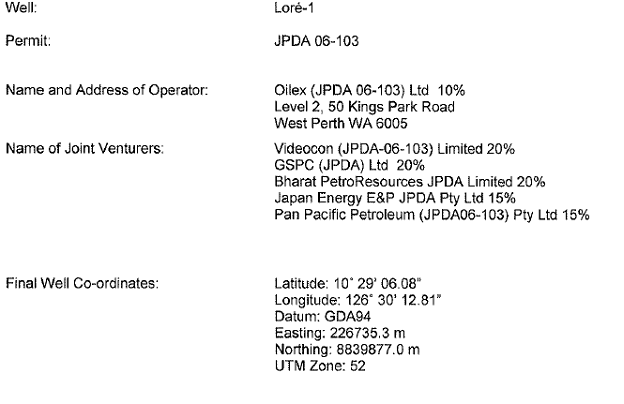 FORMATION SAMPLING
Ditch Cutting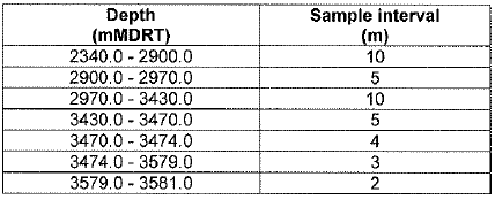 Final Distribution List: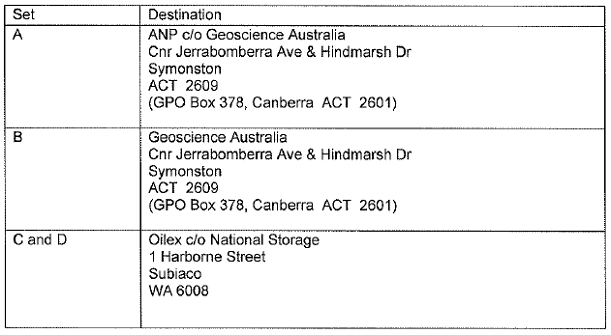 Sidewall Cores

Convention Cores
No convention cores were acquired.
Mud Gas Samples
Seven Mud Gas Isotope Logging (MGIL) samples were collected from 2676 to 3279 mMDRT. The samples were sent to Oilex c/o National Storage.
FORMATION EVALUATION
Mudlogging
This included conventional mudlogging, formation elevation, real time data monitoring, pressure and drilling analyses.
Lithological Logging
Cuttings were described by the wellsite geologist from interval 2340 to 3581 mMDRT.
Hydrocarbon Indications
Hydrocarbon indication were indicated or recorded from 2347 to 3580 mMDRT.
Logging While Drilling (LWD)

LWD Runs
Wireline Logging

Wireline Logs and Bottom Hole Temperature Data