Well Summary
Makikit-1 well was a vertical exploration well drilled in Block JPDA 06-102, Bonaparte Basin, offshore Timor-Leste. The well's surface location is in water depth of 75.1 m, and is approximately 13.1 km northeast of Bayu-4, 17.2 km northwest of Mistral-1, 22.3 km east of Elang-1, 13.6 km east of Elang-3 and 45.5 km northwest of Fohn-1. Makikit structure is situated about 300 km SW from Dili and 500 km NW from Darwin Supply Base. The well was spudded on the 19th September 2009 using the Ocean Shield jack-up rig.
The primary objective for Makikit-1 is the Callovian Elang/Plover clastic sequences below the Flamingo Formation. This target has been tested but due to the borehole condition problem, most of the data that been acquired were not conclusive enough to confirm the status of the well.
The well's location and trajectory was purposely designed to explore the hydrocarbon potential of the 3-way dip closure Makikit Prospect's. The results of the regional tectonic study, combined with well in formation from offset wells and seismic interpretation have incorporated into Makikit-1 final well drilling program.
Makikit-1 was plugged and abandoned as inconclusive result on 2nd December 2009.
TOP OF MARKERS
FORMATION

DEPTH

m MDDF

M TVDSS

SEABED
113.5
75.1
Oliver Formation
717
678.6
Hibernia Formation
758
719.6
Johnson Formation
1576
1537.6
Vee Formation
2028
1989.6
Wangaralu Formation
2505
2466.6
Darwin Formation
2979
2940.6
Echuca Shoals Formation
3012
2973.6
Flamingo Formation
3071
3032.6
Elang/Plover Formation
3262
3223.6
TD
3460
3420.6
DATA AVAILABILITY/QUALITYOpen Hole Log Data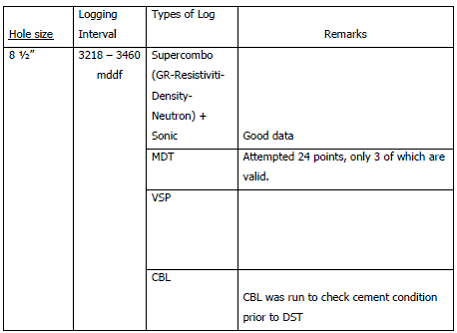 Core Data
Sidewall cores acquisition was planned for this well but was not executed due to
operational difficulties.
Wireline Static Pressure / Sample Data
Modular Dynamic Tester (MDT) tool was deployed to obtain reservoir pressures and
sample data as follows:
8.5" section (3216.5-3460 m-MDDF):
• 3 valid pressure points obtained out of 24 points attempted
• Samples were planned but none was taken due to operational difficulties